GAMI, a cutting-edge Web3 gaming studio, delivering the future of gaming by merging NFT interoperability across games and chains with engaging Influencer driven Tournaments. Connecting the pieces to bring Web3 gaming to the masses.
Vision: Become the leading gaming studio for seamless transition from Web2 to Web3 gaming
Mission: On-board the next 100 Million mainstream gamers to Web3
The gaming industry (PC, Console & Mobile) is worth 200 Billion with 2.9 Billion gamers. Mobile is the fastest growing segment, accounting for more than 50% of all gaming revenue.
Web3 (Play2Earn) gaming is still nascent and is only worth 2.3 Billion with 1.2 Million gamers (wallet addresses). The growth opportunity is immense!
We want to capture a portion of this growth by merging three of the most innovative and disruptive technologies modern civilisation is currently experiencing, namely:
Blockchain (Public Distributed Ledger), NFTs (Non Fungible Tokens) and AR (Augmented Reality).
The gaming industry is perfectly placed to take advantage of this seismic shift, where gamers can generate income (active or passive) whilst doing what they enjoy the most, playing games.
Our vision is to create games where gamers truly own what they collect (pay for) and their favourite games become a source of reward for their enjoyment.
GAMI envisages to become a leader in mobile games powered by a decentralized application (Dapp) on the blockchain. This will be achieved by bringing four new dimensions to the gaming industry through the GAMI native token:
Ownership
Play to earn
Governance
Staking
All mainstream games are centralised, meaning all in-game assets are stored on centralised databases. This results in a world where gamers have no true sovereignty over their characters and in-game assets, rendering them perpetually reliant on centralized entities.
GAMI solves this problem by adopting the power of NFT technology. All in-game assets will be NFTs allowing gamers to maintain ownership of all their purchases. All NFTs will reside in the personal wallets of gamers and no one other than the wallet holder can access these special assets.
These NFTs are based on the BEP-721/1155 standards allowing items to be unique, have value and be transferable throughout the blockchain ecosystem. Gamers will be able to sell their in-game assets to other gamers within the GAMI ecosystem, making true ownership possible for gamers.
A gamer's enjoyment should have value and this value can be achieved by personalising their favourite characters with skins, weapons, special animations, sound effects and special battle courts, all in the form of NFTs.
Your character excitement doesn't stop there. Go into battle in a digital space with people all over the world, or spawn into your character and battle it out in the real world using Augmented Reality.
Immerse yourself in game theory, have fun and keep being rewarded!
A project is only as strong as its community and we want to ensure the community has a voice and a say in the direction the platform takes.
Each community member that stakes their GAMI governance token will have a voice that can be expressed through votes on the future decisions of the platform. The structuring of the DAO will be developed over time in conjunction with the community.
GAMI will also take the DAO concept into the game. Allowing empires to become DAOs (with their own treasury). Whoever stakes their GAMI governance token qualifies to join their given DAO and vote in strategical decisions to further the expansion and dominance of their empire (DAO) over others.
Gamers staking their GAMI tokens will qualify for NFT airdrops.
Up to two percent of the total GAMI tokens will be set aside to reward liquidity providers. They will be able to stake their LP tokens to earn GAMI tokens based on a variable APY.
The biggest challenge facing all Web3 games & projects is mainstream adoption. The knowledge gap for a novice to overcome and transition to Web3 is often overwhelming and acts as a deterrent!
GAMI's unique approach to solving this problem is to adopt a twin strategy.
A DUAL GAME PLAY MODEL FOR ALL ITS GAMES. Many gamers have reservations regarding Web3 gaming, hence we've adopted a CLASSIC Free 2 Play (Web2) game mode, allowing gamers to play & have fun or easily transition to our PRO Play & Earn (Web3) game mode when they're ready.
REWARDED BITE SIZE WEB3 EDUCATIONAL MATERIAL INSIDE GAME APP. This incentivises mainstream gamers to overcome their knowledge gap in a language that is familiar, digesting it at their own pace and transitioning from CLASSIC to PRO when they're ready.
The second biggest challenge facing Web3 (Play&Earn) games is to ensure there's a sustainable game economy that has longevity, irrespective of a bull or bear market. GAMI has multiple revenue streams to address this challenge.
Primary Revenue Streams
Web2 version of the game will generate revenue (fiat) from the sales of in-game digital assets (skins) and rewarded Ads
Web3 version of the game will generate revenue (crypto) from NFT sales. NFTs will consist of Characters, Weapons, Win/Lose Animations, Sound Effects, Battle Courts and Special Access Key
Secondary Revenue Streams
In-game Sponsorship & Advertising
A royalty fee on all GAMI NFT sales in secondary markets
With the incredible growth and success of eSports, GAMI will include Pay-Per-View live streaming events of the final elimination Tournaments
The best battles from the elimination Tournaments will be uploaded to GAMI's dedicated YouTube channel, generating YouTube Ad revenue
Revenue generated via fiat revenue will be utilised to sustain the growth of the project, reducing selling pressure of the GAMI token.
Crypto revenue will be utilised to sustain the reward Tournaments and buy back GAMI & GAMI governance tokens from the open market, acting as a deflationary measure, helping price stability/appreciation.
Dual game ecosystem to help mass adoption
Dedicated organised Bite Size learning material for gamers to transition to Web3 gaming
Multiple external revenue streams to ensure sustainable game economy and token buy back mechanism to ensure price stability/appreciation
Early Beta game ready for community to test and give feedback
650,000 Alpha app downloads
1.1 Million email sign-ups for the Beta game
162,000 plus community across all socials
Target Audience
Crypto gamers
Mainstream gamers
For audience 1, GAMI is already partnering with many crypto projects to do cross marketing. GAMI gets access to partner community in return for 2 weeks of free/discounted advertising inside GAMI's game App.
For audience 2, GAMI released an Alpha referral app in preparation of the Beta game launch. This has over 650,000 downloads.
GAMI also has 1.1 Million registered email sign ups, wanting to know more about the Beta game.
162,000 followers across all socials.
GAMI is in the process of developing its clever marketing & sales funnel to convert these leads into customers once the Beta game is released.
GAMI will incorporate in game marketing (referral mechanism) for gamers to earn special Skins, NFTs & Prizes to ensure customer acquisition is built into the gameplay.
The first game to be released will be Knockout Wars. A skill based full on immersive battle game on mobile. Battle one on one or team vs team in a fast action fireball frenzy match. Win and climb the ranking table to qualify for special reward Tournaments where you can win the spoils of war for you & your Empire!
Training
Play the mini target game or battle against AI to hone your skills and get ready for PvP battles.
Ranked Battles
Battle against opposing empire warriors at similar skill level as you and climb the ranking table to qualify for Mythical, Legendary, Epic, Rare or Uncommon reward battle tournaments.
Reward Battles
Battle against opposing empires based your tier (higher tier, higher rewards) and win your elimination battles to gain rewards for you & your empire.
The cornerstone of the game will be the ability to purchase in game assets in the form of NFTs to qualify for reward Tournaments and customise game play experience.
Dual Game Ecosystem

A key distinction between GAMI and non-blockchain based games is that; everything a gamer has accumulated from skills, ranking, in game collectables and trophies, has no value once the gamer decides to stop playing the game and chooses to move on. In GAMI, not only are your NFTs re-sellable but so is your character with all its accumulated value. Allowing the gamer to fully reap all the benefits. Making game play in GAMI both fun and a rewarding experience!
Many NFTs will be sought after due to its rarity, these can be sold to other gamers for a premium. There will also be NFTs a gamer no longer wants, these can be resold to other gamers, freeing up capital to purchase new NFTs or just simply cashing out.
Winnings from the battle tournaments will be based on one's Skill level. Higher the Skill level, the gamer will qualify for higher ranked tournaments. He/she can participate in those Tournaments as long as they have a NFT character that is equivalent to the rank of the Tournament that they qualified for. If they do not own the relevant ranked NFT character, they can rent one from a gaming guild.
We want to make sure the gamers with the most skill in the game are rewarded accordingly, whilst having fun.
The GAMI token has many use cases within the Gaming Studio platform. These use cases our outlined below.
Buy in game digital assets (NFTs) to play the game and enhance gaming experience
Buy Advertising & Sponsorship space inside the game
2.5% transaction fee on all NFT buy & sells. Fees will go to develop the project
1% transaction fee on all buy and sell orders of GAMI token. Fees will go to develop the project
Stake GAMI token to qualify for periodical NFT airdrops
Stake LP tokens and receive rewards in GAMI token
Win rewards in GAMI token from achieving game play objectives
Receive rewards/tips from other gamers
Total Supply: 1.5 Billion
Fix Supply, No Inflation
Token Will Be Launched On Multi-Chains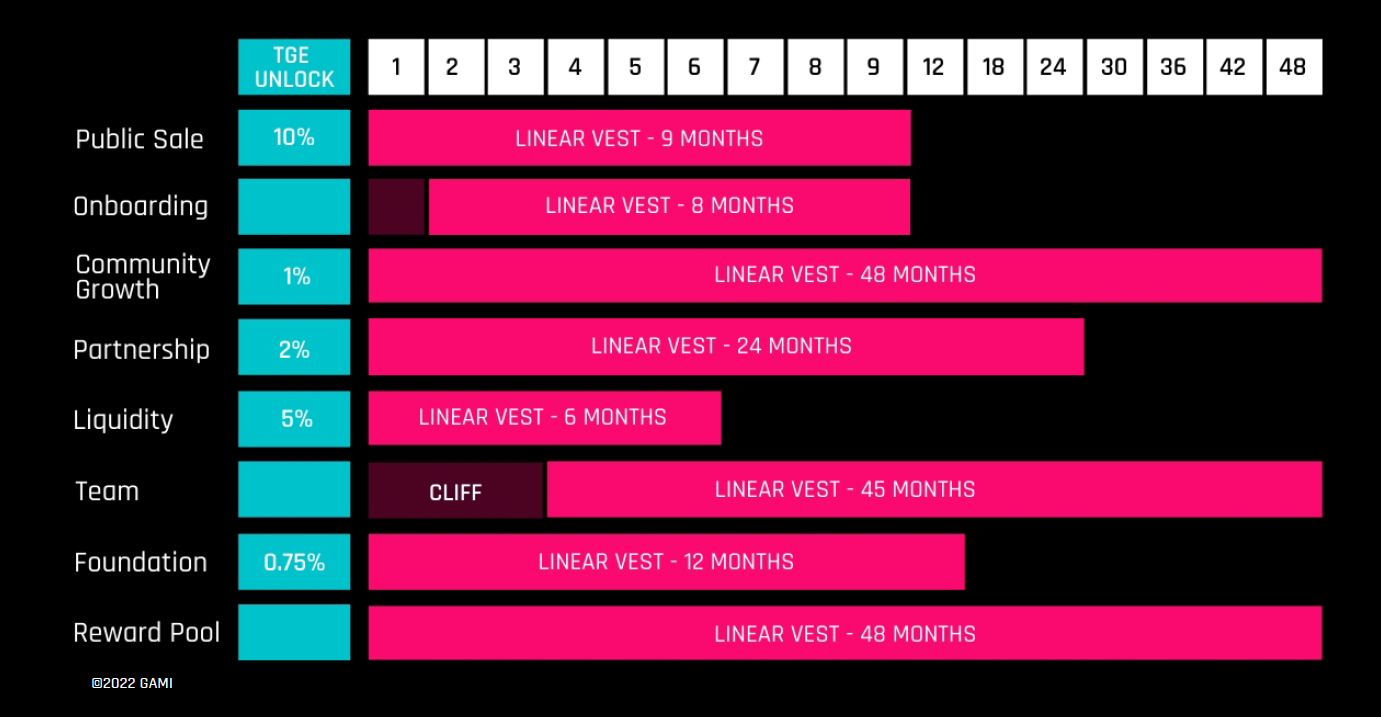 Traditional management methods with top down structures are often too slow to respond to rapid changes on the ground that require quick decisions and an even quicker change in allocation of resources.
Short development cycles with successive versions of the release.
Quick feedback loop from the GAMI community.
Incremental approach (tests and improvement with each iteration).
Daily scheduling of tasks and team briefings.
This agile management process will allow us to quickly respond to the ever fast changing requirements of this disruptive technology and market opportunities that may arise.
The contents of this document are not a financial promotion. None of the information or analyses presented are intended to form the basis for any investment decision and no specific recommendations are intended. Therefore, none of the contents of this document serve as an invitation or inducement to engage in any sort of investment activity. This document is not intended to be a prospectus, solicitation, inducement or offering for investment or the sale or issuance of securities or any interests or assets.
The information in this document is given in good faith, but no warranties, guarantees or representations are made by Gami with regard to the accuracy, completeness or suitability of the information presented. Gami expressly disclaims any and all responsibility, and Recipients expressly waive any claim, for any direct or consequential loss or damages of any kind whatsoever (whether foreseeable or not ) arising directly or indirectly from: (i) reliance on any information contained in this document or any information which is made available in connection with any further inquiries, (ii) any error, omission, or inaccuracy in any such information, (iii) any action resulting therefrom or (iv) usage or acquisition of products. This disclaimer applies notwithstanding any negligence, default or lack of care.
The Company may update, modify or correct this document in its sole discretion, without notice or incurring any obligation or liability to any recipient hereof. This document is strictly confidential and intended to be viewed exclusively by those recipients ("Recipient(s)") specifically authorized by the Company. This document shall not bind, convey any rights, obligations, terms, performance, covenants, representations or warranties on behalf of the Company to Recipient, or create any relationship between the Company and any Recipient or any other party.